Congratulations to Howard County's newest Green Schools!  Howard County now has 42 official "green" schools, the most recent 9 being selected earlier this year.  What does it mean to be a green school?  In Maryland, it means that these schools have completed a 2-year process of integrating green practices and education into the way they do things.  Then they put together an application that was reviewed and approved by the Maryland Association for Environmental and Outdoor Education (MAEOE).  This is a big accomplishment and takes a lot of effort by teachers, students, and volunteers.
This program is great because it sets up a structure and guidance for how to go about "greening" your school.  Many people have good intentions to reduce their impact on the environment, but sometimes the amount of information out there can be overwhelming.  It also has a big impact because it changes the way the school operates, and these have lasting effects.  Even better, it brings environmental awareness and empowerment to students.  They participate in researching the issues, making a plan and taking action.
Schools have improved their recycling and waste reduction.  They have reduced the amount of energy they use.  They have educated students (and teachers) about water conservation and habitat preservation.  They have created schoolyard habitats, butterfly gardens and rain gardens.
Another important part of the Maryland Green School program is forming partnerships with the community.  This is done in two ways, bringing local experts like Master Gardeners in to help, and taking action outside of the school grounds with projects like storm drain stenciling and building oyster reef habitats that are put into the Chesapeake Bay.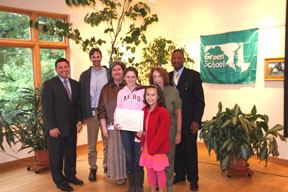 I can't say enough what a big fan I am of this program.  It gets the conversation started and provides a framework for schools to follow.  Congratulations again to all of the Howard County Green Schools – you deserve it!  For a complete list of Maryland Green Schools listed by county, please visit http://www.maeoe.org/greenschools/listing/
Elissa Reineck, OES Environmental Volunteer Coordinator