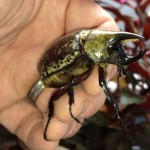 Last week, while making my way across the office parking lot, admiring the rain gardens in full growth and ready to catch the next round of storm runoff, I noticed what looked like a mottled, polished stone in the sea of asphalt. Getting closer I realized this was no stone… it was moving. When close enough to identify, I quickly reverted back to my childhood fascination with insects and was in awe of my latest find.
You see, I grew up in a time before organized sports consumed weekends and long before video games were the after school activity of choice. With so much 'free time' on our hands and living on the edge of suburbia, my friends and I spent time roaming the fields and woods behind our neighborhood. Between the ages of 11-13, we became crazed insect collectors. Armed with insect nets we would hunt down, identify, and build collections of all the bugs we could find. We competed to be the first to catch a certain species and traded bugs to fill out the missing parts of our collection. We didn't go anywhere without our tattered insect and butterfly guides stuck in our back pocket.
Great memories, but long ago I gave up my insect mania to address what seemed like the bigger agendas of environmental management. Yet, that morning on my way into work with my mind full of stormwater management policy, best management practices, and environmental permit compliance, I stopped to admire this rather large insect struggling to make his way across an endless parking lot. In all my days I had never seen a live Hercules beetle and I thought, what a prize he would have been back in the day. Convinced that no one would believe I had seen this critter, I picked him up and put him in my briefcase to show the office mates.
What a hit he was that day! Folks came from all around to see this two and a half inch long beetle hanging out in a cup on my desk. I was reliving my childhood, basking in the interest my insect friend created for me and others. Of course I had to take him home to show my not-so-interested wife (she has a hard time separating any bug from stink bugs these days). I put him in a little terrarium with a dirt floor, some tree bark for shelter and a chunk of melon to feed on. I took a picture of him and sent it to all my friends who I thought might be interested.
Too often we get wrapped up in our jobs and the tangential aspects of why we do what we do. Sometimes a moment with an insect is needed to refresh the memory as to the importance of environmental protection, why we write these environmental policies, search for the best management practice or make sure all our operations are in compliance with environmental regulations. Very simply, it is for our environment, the bugs, and the kids who will enjoy their fascinating life history.
To read about the Eastern Hercules Beetle here are some links:
http://bugguide.net/node/view/2877http://arthurevans.wordpress.com/2010/09/15/453/.
Footnote: After a few days of observation, and wondering if I could keep this bug as a pet like a kid with a hermit crab, I chose to let him go under a hedge near our house to live out his life where he was meant to be.