As a Howard County resident, you can make a big impact on stormwater pollution by increasing the amount of pervious surface that absorbs stormwater runoff on your property. In addition to protecting the environment by reducing runoff, you'll also reduce your Watershed Protection Fee.
Watershed Protection Fee
The Watershed Protection Fee aims to improve the water quality of streams in your backyard, rivers in your neighborhood, and the Chesapeake Bay by funding projects that treat Howard County stormwater runoff. All property owners are charged a fee based on the size of their property or the amount of impervious area on their property that allows untreated stormwater to run off.
For owners of residential properties with improvements, the annual watershed protection fee structure is as follows:
$15 for own­ers of town­houses and condominiums
$45 for own­ers of homes on lots of one-quarter acre or less
$90 for own­ers of homes on lots larger than one-quarter acre.
If you aren't sure about the exact size of your lot, check the State Departments of Assesments and Taxation's website here.
If you believe you were incorrectly assessed, complete the Adjustment Request form, for billing adjustment consideration.
Reimbursement and Credit
Installing a CleanScape is a great way to become part of the solution to stormwater runoff—and it can help you save money on the annual Watershed Protection and Restoration Fee! Just apply for CleanScapes Residential Reimbursement and credit. The reimbursement is a one-time payment of up to 50% cost paid for a practice and credit is an annual percentage (based upon the impervious that has been treated by your practice) against the Watershed Protection Fee.
How does the process work?
Pick Your CleanScape Project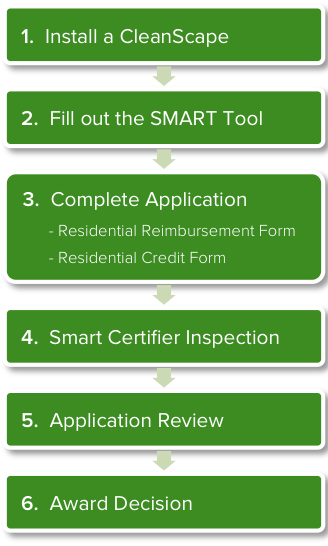 Check out our brochure of the basic application process and eligibility for credit and reimbursement. Once you've picked your CleanScape, check the criteria of your project to make sure it meets the minimum levels for credit and reimbursement. Check page 17 for a list of resources available to help you, including local contractors and financial resources. If you are interested in doing a project yourself, take a look at this guide for materials and local stores that stock them, down to the aisle number.
See the Gallery at the bottom of this page for examples of what your project could look like when it's done and make sure to check out this video to see how installing a CleanScape saved a Howard County homeowner's yard from stormwater runoff. Who knows, your project could be on our website next!
Whether you're thinking of installing your CleanScape on your own or with a contractor, take a look at this summary of resources available to help you, which includes local contractors, information about a Do-It-Yourself Guide, and a list of stores that carry materials you will need to install a CleanScape project yourself.  If you still have questions, check out our Tools section. If your contractor has installed less than 5 BMPs through this program, we will require these additional documents: planting plan (if applicable), profile view of practice (detailing soil amendments, depths, etc.), and calculations or observations justifying design.
Install Your CleanScape
During your project, keep all of your information in these cheat sheets—or ask your landscaper to fill them out, so you can easily enter it into the SMART tool later (see below). The information you'll need to complete the SMART tool depends on what kind of project you're doing. See the cheat sheet below corresponding to your selected Best Management Practice.
Cheat Sheets:
Apply for Credit and Reimbursement
Complete the application for a CleanScapes Reimbursement and credit.  Use the handy cheat sheet you filled out while installing your CleanScape (above) to enter data into the SMART tool.  The SMART tool application must be completed before your application can be processed further. You must apply for credit by April 15, 2017 to be considered for credit against the July 2017 Watershed Protection Fee.
Inspection, Review, and Award
A SMART Certifier Inspection will take place on your property.  You will be given at least 48 hours advance notice and do not need to be present for the visit, although you may join the inspectors to provide more information during the site visit if you wish.  Information collected during the site visit, along with the initial application, will be reviewed by staff to determine the final award of credit or reimbursement. Inspections are performed on a rolling basis from Spring to Fall. Please note that reimbursements will not be granted for items not installed by the homeowner or for items installed before November of 2011. We cannot grant credit or reimbursement for structural BMPs installed at the time of development.
Confused? Click here. If that still doesn't help, email us at cleanwaterhoward@howardcountymd.gov.
Rain Gardens for Clean Water
A Simple, Cheaper Way to Be Water-Friendly at Home. 
Do you dream of a landscaped yard that can solve erosion and runoff problems? What if we told you this landscaping can also help local pollinators, local streams, and local businesses and we're picking up 75% of the cost? Not a gardener? No problem; we'll supply tips to maintain or you can get a maintenance package for an additional charge. And you won't even have to find your own landscaper. Learn more here! 
Maintaining Your Rain Garden
You have a rain garden, but how can you keep it gorgeous for years to come? Find information from local experts offered at a recent event here!