**New minimum requirements for BMPs will go into effect July 1, 2019. Details will be posted shortly.**
Choose from eight different Best Management Practices to install on your property and submit an application for an opportunity to reduce your Watershed Protection Fee and/or be reimbursed for your projects. The reimbursement is a one-time payment for installing a CleanScape practice, and credit is an annual percentage (based upon the impervious that has been treated by your practice) towards your Watershed Protection Fee. All practices are eligible for reimbursement and credit--however your practice must meet the minimum requirements.
How does the process work?
1. Pick Your CleanScape Practice
Use our CleanScapes Program Guide, for detailed information about each practice, as well as minimum levels for credit and reimbursement for each practice.
Other handy resources:
Our Eco Friendly Gardening Cheat Sheet is a list of resources available to help you, including local contractors, financial resources, and site assessments. 
If you are interested in doing a project yourself, take a look at our Green Registry for local stores that carry native plants and materials for projects.
Participate in our Native Plant Passport to recieve a coupon sheet offering discounts to local nurseries and garden supply stores. The Native Plant Passport was created by a River Hill High School student intern. 
All CleanScapes practices are eligible for reimbursement and credit and include the following: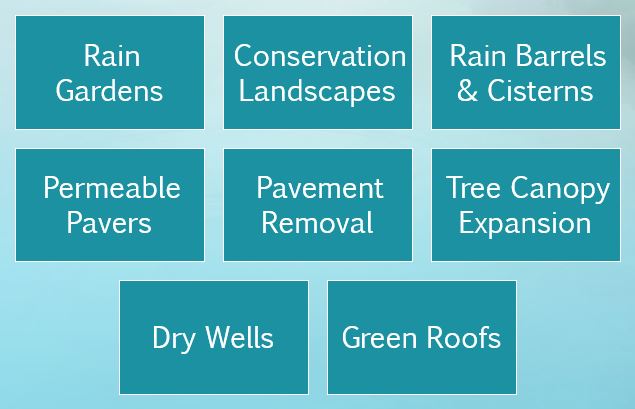 Pictures of example practices are at the bottom of this page. You can also check out this video to see how installing a CleanScape saved a Howard County homeowner's yard from stormwater runoff.
2. Install Your CleanScape
During your project, keep all of your information in these cheat sheets (see below) —or ask your landscaper to fill them out, so you can easily submit this information with your application.
**Please note** If the contractor you choose has installed less than 5 CleanScapes practices through this program, we will require these additional documents: planting plan (if applicable), profile view of practice (detailing soil amendments, depths, etc.), and calculations or observations justifying design.
Cheat Sheets:
3. Apply for Credit and Reimbursement
**Your home must have been built before 2003 to be eligible for the program**
Complete the application for a CleanScapes Reimbursement and credit and fill out the corresponding info sheet. You must apply for credit by April 1, 2019 to be considered for credit against the July 2019 Watershed Protection Fee.
4. Inspection, Review, and Award
An inspection will take place on your property to ensure your practice meets the minimum requirements.  You will be given at least 48 hours advance notice and do not need to be present for the visit, although you may join the inspectors to provide more information during the site visit if you wish.  Information collected during the site visit, along with the initial application, will be reviewed by staff to determine the final award of credit or reimbursement. Inspections are performed on a rolling basis from Spring to Fall. 
Please note that reimbursements will not be granted for:
items not related to the project, or in excess of project needs
for items installed before the program start date of November of 2011
We cannot grant credit or reimbursement for structural BMPs installed at the time of development. These items are required by development regulations.
Contact us with any questions: jcostantino@howardcountymd.gov
Maintaining Your Rain Garden
You have a rain garden, but how can you keep it gorgeous for years to come? Find information from local experts offered at a recent event here!